Do you need quality web graphics for your website
Our website graphics are elegant, contemporary and professional.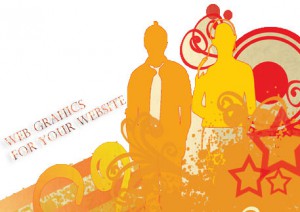 Well-designed and well thought out graphics in many instances. Let us develop your ads or the graphics for you internet marketing campaign.
Are you planning an ad campaign? We produce your ads, static or animated with the right target audience in mind. Or is it time to buy new web-business cards that hit knock-out on the receiver and get potential customers to remember you in the best way? Maybe you need to sent out beautiful invitations for the party, either digitally or in print. Let us develop your high quality, unique, functional and creative graphics.
We work with unbeatable low hourly rate, or a fixed agree upon price per assignment, then the work is easily defined. We offer all new customers the first five hours at a discounted price to show that we are working for sustainable customer relationships. Trial offer is available to new customers only and at one mission opportunity.
The process of web graphics design
Graphic Design
We can help with all forms of graphic webdesign / graphic design, layout and image editing.
From Idea to Print and the Web
We sketch ideas first and then design materials from the original sketch which has been approved by you. We can also manage the entire printing process from the website designs
Proper documentation
From us you get the correct file formats for both print and the web (or other media).
Simple updates
We keep your files up to 2 years after each completed mission. So it is easy for you to ask us to update the text and pictures when needed.
Direct communication
Here you get the opportunity to talk directly with the person performing your mission!