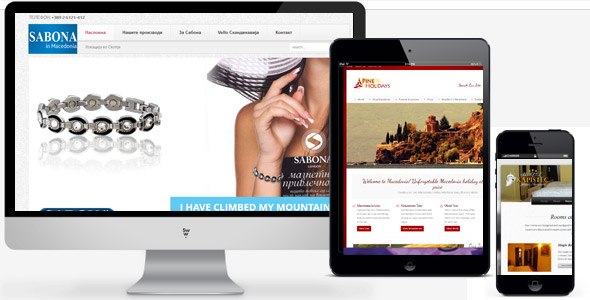 Functional Website Designs
Our website designs are elegant, modern and made professionally.
Website design is not only how ithe web page looks. More important is how it works. For things to work on the internet they must be functional and easy to find. That requires a focus on search and navigation. If it is easy to search and navigate between  your web pages and  customer finds what they are looking for then they must must be able to do something with them; complete a task. The nature of behavior of your website visitors is very impatient and fast-moving. The first 10 seconds of the page visit are critical for understanding and leaving the page and if  a person does not understand what a page is about they tend to leave. Therefore, we need very simple design that clearly and fast communicates the purpose of any particular page. We make websites that combine functionallity with aestetics, are compatible with the major browsers and operating sistems and the most important, they are responsive ready for the mobile devices.
What should a good website design look like?
Mobile and tablet ready
Site design is "responsive " and adapts so that even those who visit the site using a mobile phone get a good experience.
Functional and flexible
The website can be expanded with new features when required. You and your staff can manage the website themselves.
Avoid complicated programs for administration of your website
Ability to administer your website wherever you are ( only you have access to the browser and the internet). Of course, many people may be administrators , publish and edit content on the website.
Publishing
We build websites and intranets using HTML5 or Content managing systems (CMS) like WordPress, Joomla or Drupal. Our websites are flexible and can grow and expand along with your company or organization. These content managing systems are widely used publishing tools. They are used by millions of companies , organizations and individuals worldwide.