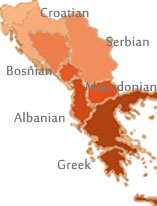 Numerous companies, recommend and depend on MakedonskiPrevodi's professional translations to deliver  high-quality and low-cost translation services. In fact, of any professional translation company located on Balkan, MakedonskiPrevodi's document translations have been used and counted on by both small businesses & international giants, as well as government institutions alike. Additionally, which is completely dedicated to the accuracy of its translation services and the quality of its localization services.
We ARE located in Republic of Macedonia, which means quality and low-cost translation services on time
There are many reasons to choose MakedonskiPrevodi's language translation services:
our 24-hour operation means that we can help you deliver quality on time
our low-cost infrastructure gives you more 'translating for your money"
our scientific approach to selecting translators and thorough work-flow process ensure high quality copy in the foreign language
while translating from Macedonian, Serbian, Croatian, Bulgarian, Albanian and Greek into English, French, German or Swedish and vice versa we use high computerised technologies like no one else does on the Balkans
But the one we consider crucial is our commitment to customer service. From the first time you pick up the 'phone, you will sense the professionalism running through our  translation agency. As we mentioned before we really DO CARE about our costumers.